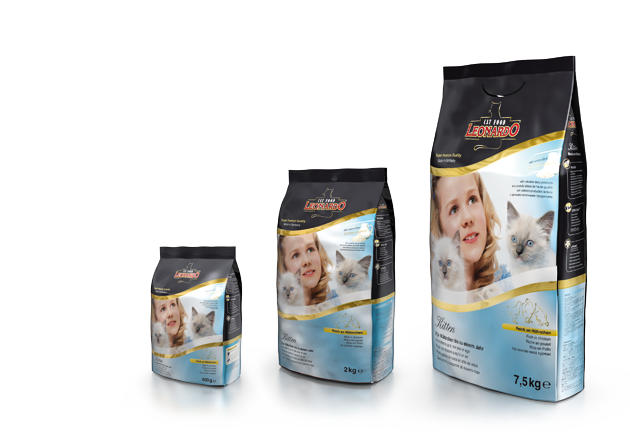 LEONARDO®

KITTEN - RICH IN POULTRY
LEONARDO® Kitten is so healthy for young kittens because it is prepared with tender chicken meat and all the goodness of quality milk.
This facilitates the changeover to solid food. LEONARDO®
Kitten contains the ProVital combination of active
ingredients from natural yeast extracts to
support and develop the immune function.
PRODUCT ADVANTAGES

Rich in energy and protein for balanced growth
High protein quality: Ratio of animal protein to total protein 90 % (from poultry 80 %, from fish 10 %)
With delicious krill, crustaceans from the Antarctic, which are rich in natural vital substances
Valuable omega-3 fatty acids from linseed and krill together with lecithin ensure healthy skin and beautifully glossy fur
PACKAGING SIZES
400 g, 2 kg
FOR THE WELL BEING OF YOUR CAT
ProVital
Natural stimulation of the immune system
ProVital contains natural ß-1,3/1,6-glucans, made from cell wall components made of natural yeast. They simulate the cat's own defence system, this leads to your cat being less sensitive and susceptible to illness.
STAY-Clean™
Plaque reduction
Highly-concentrated Vitamin C is applied on the outside of our croquettes with special technology. This quickly-soluble active substance in LEONARDO® cat food reduces the growth of unwanted bacteria in the oral cavity and prevents the formation of tartar and plaque. (STAY-Clean™ is a registered trademark of DSM Nutritional Products AG)
Linseed
Rich in omega-3 fatty acids
Flax seed is a domestic oleiferous fruit with a fat content of 40%. Flax seed is an old home remedy used by cat breeders. It has a positive effect on skin and fur as well on digestion.