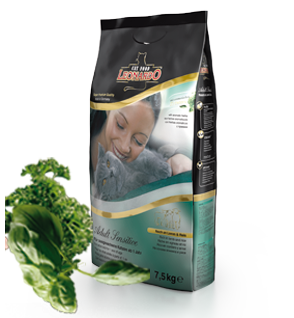 LEONARDO® ADULT SENSITIVE RICH IN LAMB & RICE
Refined with a wide variety of herbs - for four-legged gourmets
This LEONARDO® formulation is suitable because of its high
proportion of lamb and highly digestible rice
especially for cats that special care
need because they can not tolerate their food
or have bowel problems.
PRODUCT BENEFITS
Lamb is the main source of animal protein and particularly well tolerated. The meat comes exclusively from extensively held grassland lambs. For sensitive cats that are more prone to food intolerances, lamb is an alternative to beef Hervoragende.
High protein quality: Percentage of animal protein in total protein 85% (from 35% lamb, poultry 35, from fish 15%)
Aromatic herbs round off the fine taste and supplement the diet with natural vital substances (including digestive tannins and bitter substances, essential oils, silica).
Valuable omega-3 fatty acids from flax seed and fish, together with brewer's yeast and lecithin ensure healthy skin and a particularly glossy coat.
PACKING SIZES
400 g, 2 kg
FOR THE WELL-BEING OF YOUR CAT
ProVital
Natural stimulation of the immune system
ProVital invaluable ß-1,3 / 1,6-glucans from the cell wall constituents of natural yeast. They stimulate the body's immune system of the cat and cause your cat is less sensitive and susceptible to disease.
STAY-Clean ™
plaque reduction
Highly concentrated vitamin C is applied externally on our dry food with a special technique. This fast-dissolving agent in LEONARDO® cat food reduces the growth of unwanted bacteria in the oral cavity, thus preventing the formation of tartar and plaque. (STAY-Clean ™ is a registered trademark of DSM Nutritional Products AG)
pH Control
Optimizes ph-value of the urine
Our ​​food formulations contain natural protein building block methionine, which slightly acidifies the urine and significantly reduces the risk of urinary stones.