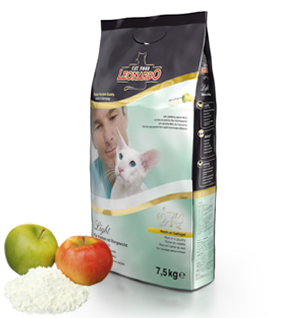 leonardo LIGHT - RICH IN POULTRY
Obesity decreases the vitality of your cat and increases the risk of illness. The early
adjustment of diet by using a lower energy content cat
food such as LEONARDO® Light thus makes an
important contribution to the health of your cat
and helps return it to peak condition.
PRODUCT ADVANTAGES
Reduced energy content (only 11% fat) and high protein content (35%)
Higher apple and oat bran content as fibre increases the feeling of satiety and promotes digestion
High protein quality: Ratio of animal protein to total protein 85 % (from poultry 65 %, from fish 20 %)
L-carnitine supports the "burning" of excess fat in the body
Natural, healthy cell protection with grapeseed meal from cold-pressed grape seeds – to prevent your pets body from oxidising
Valuable omega-3 fatty acids from fish and lecithin ensure healthy skin and beautifully glossy fur
PACKAGING SIZES
FOR THE WELL BEING OF YOUR CAT
L-Carnitin
Supports weight loss
L-Carnitine is an active substance, similar to a vitamin, which plays an essential role in the energy metabolism of animal and vegetable cells. Among other things, it has an influence on fat burning in muscles.
STAY-Clean™
Plaque reduction
Highly-concentrated Vitamin C is applied on the outside of our croquettes with special technology. This quickly-soluble active substance in LEONARDO® cat food reduces the growth of unwanted bacteria in the oral cavity and prevents the formation of tartar and plaque. (STAY-Clean™ is a registered trademark of DSM Nutritional Products AG)
ph-Control
Optimises the pH value of the urine
Our food recipes contain the natural protein component methionine, which slightly acidifies the urine and which substantially reduces the risk of urinary stones.